Fujitsu Releases New 32-bit RISC Microcontroller, the MB91302
Direct Memory Access Enables High-Speed Data Processing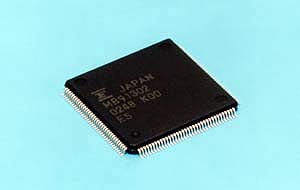 Tokyo, April 8, 2003 -- Fujitsu Limited today announced that it has jointly developed with Fujitsu VLSI Limited the MB91302, a new 32-bit high-performance RISC microcontroller that implements direct memory access for high-speed data transfer. The new microcontroller, which is especially well suited for DVD players, digital cameras, printers, video games, and other applications that require high-speed throughput, is available starting today.
The device offers on-chip interfaces for a complete range of memory types, including synchronous DRAM (SDRAM), enabling direct memory access. This significantly increases data transfer speeds and simplifies circuit board design due to a smaller parts count, resulting in cost savings.

Pricing and Availability (Japan)
| | |
| --- | --- |
| Name | Price (excl tax) |
| MB91302 | 1,200 yen |
Sales Target: 300,000 units/month
Special Features of the MB91302
Interfaces for all memory types
The MB91302 implements interfaces for SDRAM, SRAM, asynchronous ROM (EEPROM, mask ROM), flash memory, and fast cycle RAM (FCRAM). It enables direct access to any type of memory, offering high-speed data transferring, reduced parts-count for simplified circuit design, and cost savings.
Equipped with high-speed direct memory access controller (DMAC)
The MB91302 also provides a high-speed DMAC circuit dedicated to controlling data transfer. This technology makes it possible to move data directly between an external device and a memory, without passing through the CPU, thereby doubling the data transfer rate.
MB91302: Main Specifications
Process technology
0.25 µm CMOS
Voltage
3.0 to 3.6 V (typ 3.3 V)
Memory
4 KBytes ROM
4 KBytes RAM
4 KBytes cache
Max clock rate
68 MHz (4x PLL @ 17 MHz external clock)
Interfaces
SDRAM, Inter-IC controller, UART controller, A/D converter
Main features
DMAC, Input capture unit, Programmable pulse generator, Timer, Reload timer
Packaging
144-pin quad flat package
Trademark Notice
FCRAM is a trademark of Fujitsu Limited. Other product names and proper nouns are trademarks or registered trademarks of the respective companies.
About Fujitsu
Fujitsu is a leading provider of customer-focused IT and communications solutions for the global marketplace. Pace-setting technologies, high-reliability/performance computing and telecommunications platforms, and a worldwide corps of systems and services experts make Fujitsu uniquely positioned to unleash the infinite possibilities of the broadband Internet to help its customers succeed. Headquartered in Tokyo, Fujitsu Limited (TSE:6702) reported consolidated revenues of 5 trillion yen (about US$38 billion) for the fiscal year ended March 31, 2002. For more information, please see: http://www.fujitsu.com/
[Press Contacts]
Chiaki Kuwahara, Nancy Ikehara
Fujitsu Limited, Public & Investor Relations
Tel: +81-3-3215-5259 (Tokyo)
Fax: +81-3-3216-9365
Press Inquiries

[Customer Contact]
Fujitsu Limited
Electronic Devices Group
System Micro Division
Tel: +81-42-532-1397 (Tokyo)
E-mail:edevice@fujitsu.com

All company/product names mentioned may be trademarks or registered trademarks of their respective holders and are used for identification purpose only.
Please understand that product prices, specifications and other details are current on the day of issue of the press release, however, may change thereafter without notice.