| | |
| --- | --- |
| [ PRESS RELEASE ] | Fujitsu Limited |
Fujitsu Releases 16-bit Microcontroller for LCD Panel Drivers
Displays up to 192 Segments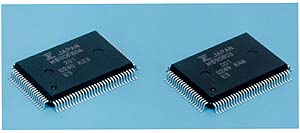 Tokyo, April 2, 2003 -- Fujitsu Limited, in collaboration with Fujitsu Devices Inc., today announced the release of four new microcontrollers for liquid crystal display panel drivers that can support up a maximum of 192 segments. Designed for use in audio-visual equipment and digital consumer electronics as part of Fujitsu's MB90800 Series, the new products are available starting today.

With readout panels on audio-visual equipment and consumer electronic products displaying an increasingly large volume of information, the demand for panels that can accommodate large volumes of information on many of these products has increased accordingly. Fujitsu developed this line of controllers to deliver more flexibility for panel design and more processing power.
Features
Capable of controlling LCD displays with up to 192 segments
The new products are able to drive LCD readouts that have segment readings containing up to 192 elements, an amount 50% greater than the capacity of previous controllers. This enables readouts that can contain, for example, 192 discrete elements, or 27 numerical digits, allowing greater flexibility in panel design.
High-speed operation up to 25 MHz
The microcontrollers operate at internal clock speeds of up to 25 MHz, enabling high-speed processing.
Pricing and Availability (Japan)
| | | |
| --- | --- | --- |
| Product | Pricing (excl. tax) | Sample shipments |
| MB90F804-101 | 1,800 yen | April 2003 |
| MB90F804-201 | 1,800 yen | April 2003 |
| MB90803S | 900 yen | May 2003 |
| MB90803 | 900 yen | May 2003 |
Sales Target
100,000 units/month (four models combined)
Main Features of the MB90800 Series


MB90F804-101
MB90F804-201
MB90803S
MB90803
Process technology
0.35 µm CMOS
Power supply
3.0 to 3.6 V (@ internal 25 MHz clock rate)
Operating temp
-45 to 85°C
Min instruction execution time
40.0 ns @ 6.25 MHz (PLL: 4x clock multiplier)
RAM
16 KBytes
4 KBytes
Flash memory/ROM
256 KBytes flash memory
128 KBytes ROM
I/O ports
70
(no sub-clock, max.)
68
(with sub-clock, max.)
70
(no sub-clock, max.)
68
(with sub-clock, max.)
LCD controller
48 segments x 4 character lines (equivalent to 192 segments)
Timers
PPG timer, timer/counter w/ capture
Standby modes
sleep, stop, time-base timer, CPU intermittent
Interrupts
delay, DTP/ external
Communications
Expanded serial I/O interface (2 channels)
I2C bus interface (1 channel)
UART (2 channels)
AD converter
12 channel (8/16-bit switchable)
Packaging
100-pin plastic Quad Flat Package
About Fujitsu
Fujitsu is a leading provider of customer-focused IT and communications solutions for the global marketplace. Pace-setting technologies, high-reliability/performance computing and telecommunications platforms, and a worldwide corps of systems and services experts make Fujitsu uniquely positioned to unleash the infinite possibilities of the broadband Internet to help its customers succeed. Headquartered in Tokyo, Fujitsu Limited (TSE:6702) reported consolidated revenues of 5 trillion yen (about US$38 billion) for the fiscal year ended March 31, 2002. For more information, please see: http://www.fujitsu.com/
[Press Contacts]
Nozomi Endo, Nancy Ikehara
Fujitsu Limited, Public & Investor Relations
Tel: +81-3-3215-5259 (Tokyo)
Fax: +81-3-3216-9365
Press Inquiries

[Customer Contact]
Fujitsu Limited
Electronic Devices Group
System Micro Division
Tel: +81-42-532-1397 (Tokyo)
E-mail: edevice@fujitsu.com

All company/product names mentioned may be trademarks or registered trademarks of their respective holders and are used for identification purpose only.
Please understand that product prices, specifications and other details are current on the day of issue of the press release, however, may change thereafter without notice.