Fujitsu Limited
PFU Limited
Fujitsu, PFU Launch Initial Sales of MARON-1 Internet-Enabled Home Robot to Solutions Providers in Japan Market
Mobile Phone-Controlled Robot Opens Up New Possibilities for Businesses Looking to
Provide Innovative In-Home Care and Home Security Services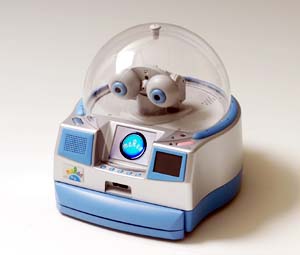 Tokyo, March 13, 2003 --Fujitsu Limited and PFU Limited today announced that they have begun initial commercial sales in Japan of their mobile phone-controlled, Internet-enabled robot, MARON-1, targeting system integrators and other businesses looking to provide innovative robotic solutions for in-home use. PFU, a Fujitsu group company, will develop, manufacture and provide user support, and both companies will cooperate in sales and marketing activities.
Developed last year by Fujitsu Laboratories Ltd., MARON-1 is an Internet-enabled robot that can be operated by mobile phone for remote household monitoring, remote control of household appliances, or to serve as a hands-free phone itself. With its onboard camera, it can transmit images of its surroundings to a remote operator using a mobile phone.

At the initial stage, MARON-1 will be marketed to systems integrators or other innovators in Japan looking to develop finished solutions or create new business models for it. Joint testing of different usage scenarios and operating environments with these customers is expected to provide valuable input for future development of volume production models. For example, the robot could serve as part of an in-home healthcare communications system or a home security system for remote monitoring and notification in case of break-in. A condominium developer in Oita Prefecture will be the first commercial user of MARON-1.
After evaluating the experience of initial users, development and sales of mass-volume models for general consumers in Japan are expected to begin in the second quarter of FY2003. The companies will consider overseas sales of MARON-1 after evaluating its experience in the Japanese market. Eventually, Fujitsu and PFU believe that MARON-1 will find wide use in homes, small businesses, and nursing or assisted living facilities as a valuable assistant in everyday life.
MARON-1 will be on exhibit at ROBODEX 2003 at the Pacifico Yokohama convention center from April 4 - 6, 2003.
MARON-1 Product Highlights
Remote operation by mobile phone
MARON-1 is equipped with a camera and infrared emitter that can be controlled remotely through a mobile phone to transmit images or operate household appliances. Commands transmitted via mobile phone are used to direct the robot's movements.
- Accepts precise instructions to move forward, back or turn.
- Can traverse door saddles and other minor surface gradations.
Home security
MARON-1 can detect and respond to intruders. When the robot detects a break-in, it sounds an alarm and sends an emergency alert to a pre-set number.
Remote monitoring
With its infrared remote-control interface, MARON-1 can operate any appliance equipped with an infrared sensor, including air-conditioners, televisions and VCRs, and this capability is accessible via its mobile phone-remote feature. It can also execute tasks at pre-set times, such as recording a program on the VCR.
Hands-free phone
MARON-1 is also a full-featured hands-free phone with speed-dial memory for one-touch access to frequently dialed numbers.
Camera
MARON-1 is equipped with a camera on a rotating mount so that it can record surrounding scenes and transmit them to a mobile phone. Using these images, the user can then direct the robot to move to a designated spot.

Pricing: ¥298,000 (excl tax)
Availability: March 14, 2003 (limited initial shipments)
Principal Specifications
Dimensions:

32 x 32 x 36 cm

Weight:

5.5 kg

Drivers:

Two powered wheels (left, right), one crawler, two-way camera head (pan, tilt)

Sensors:

1 infrared sensor/emitter (for operating electronics by remote); 2 cameras (640x480 pixels), 1 proximity sensor, 2 bumper switches

User interface:

1 touchpad; 5 menu keys; 2 function keys; 1 4" LCD monitor; 1 microphone; 1 speaker

Operating system:

WinCE 3.0®

Battery type:

NiMH (in main unit)

Run time per charge:

10 hours (in power-saving sleep mode)

Operating conditions:

0-40°C; 30-80% humidity

Usable with NTT DoCoMo i-Appli-compatible Mova 504i series phones, 504iS series phones, and FOMA series phones (excluding N2001). Mobile phones are sold separately. Note: MARON-1 must be equipped with an AirH" PHS communication module to permit remote operation by mobile phone.
About Fujitsu
Fujitsu is a leading provider of customer-focused IT and communications solutions for the global marketplace. Pace-setting technologies, high-reliability/performance computing and telecommunications platforms, and a worldwide corps of systems and services experts make Fujitsu uniquely positioned to unleash the infinite possibilities of the broadband Internet to help its customers succeed. Headquartered in Tokyo, Fujitsu Limited (TSE:6702) reported consolidated revenues of 5 trillion yen (about US$38 billion) for the fiscal year ended March 31, 2002. For more information, please see: http://www.fujitsu.com/
About PFU Limited
PFU Limited is a subsidiary of Fujitsu Limited, established to specialize in development and manufacturing of computer equipment, and to provide highly reliable computer network and system services and solutions. Our headquarters are located in Unoke-machi,Ishikawa Prefecture.
We also have sales offices in Kawasaki.
For further details, visit: http://www.pfu.fujitsu.com/en/
Trademarks
Windows is a registered trademark of Microsoft Corporation in the U.S. and elsewhere. i-Appli is a trademark of NTT DoCoMo. All other product names and company names mentioned herein are the trademarks or registered trademarks of their respective companies.
Click here for a downloadable high-resolution image.
[Press Contacts]
Minoru Sekiguchi, Scott Ikeda
Fujitsu Limited, Public & Investor Relations
Tel: +81-3-3215-5259 (Tokyo)
Fax: +81-3-3216-9365
Press Inquiries

Yoshio Murata
PFU LIMITED
ProDeS Sales Division, MARON Group
Tel: +81-42-788-7639 (Tokyo)
e-mail:maron@pfu.fujitsu.com

[Customer Contact]
Fujitsu Limited,
Business Development Div., Marketing Group
Tel: +81-3-3216-9403 (Tokyo)
e-mail:nb@sales.fujitsu.com

Yoshio Murata
PFU LIMITED
ProDeS Sales Division, MARON Group
Tel: +81-42-788-7639 (Tokyo)
e-mail:maron@pfu.fujitsu.com
All company/product names mentioned may be trademarks or registered trademarks of their respective holders and are used for identification purpose only.
Please understand that product prices, specifications and other details are current on the day of issue of the press release, however, may change thereafter without notice.