-- For Immediate Release --


Fujitsu Announces World's First Commercial 42-inch-diagonal Wide-Screen Color Plasma Display
-- First to Mass-Produce Large-Scale Display for the Multimedia Age --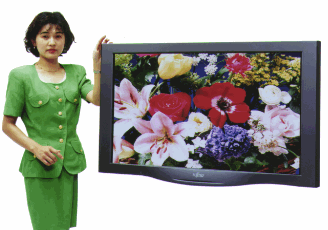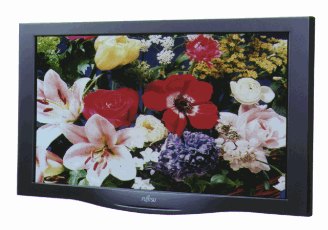 Tokyo, August 24, 1995 -- Fujitsu has developed the world's first 42-inch wide-screen color plasma display. Achieving large-scale image display, color plasma display panels (color PDPs) are expected to replace cathode-ray tube(CRT) and rear projection type displays as the next generation television display devices. To meet this demand, the company will start volume production in October 1996.
Fujitsu's newly developed 42-inch color PDP promises to realize the long-awaited conceptof a wall-hanging TV, and as a next generation multimedia TV, PDPs embody the spirit of Fujitsu's corporate motto: "What Mankind Can Dream,Technology Can Achieve."

The new device features a 42-inch-diagonal screen (920mm wide by 518mm high) that is just 75mm thick -- a feat impossible with CRTs.
In addition to full-color display of 16.7 million colors, it boasts 300 candela/m2 white peak brightness and a contrast ratio of 70:1, for a display quality on par with even the best CRTs and far superior to rear projection type displays.

Fujitsu will invest about 20 billion yen beginning in 1995 to establish a new production line for PDP products at the Miyazaki Plant of subsidiary Kyushu Fujitsu Electronics, which currently carries out back-end assembly and testing of semiconductors.
Initial volume production, scheduled to begin in October 1996, will be 10,000 units per month.Beginning in 1998, Fujitsu will invest an additional 40 billion yen in the second phase of the project, with the aim of increasing production to 100,000 units per month by the year 2000.

Sample price of the 42-inch color PDP unit will initially be 1,000,000 yen, but Fujitsu aims to sell the unit at about 500,000 yen per unit at the time of volume production. Based on this goal, the company projects annual sales of color PDPs will reach 200 billion yen by the end of the decade.

Today's worldwide television market has reached about 100million units per year.
In recent years, there has been a distinct trend towards larger screens, as evident in the strong growth of wide-screen sets in Japan and big-screen units in the U.S.
This trend is expected to accelerate along with the growth of multimedia, so that by the year 2000 large-size wide-screen TVs will account for one-third of the total television market.
Fujitsu projects that color PDPs will comprise more than 10% of this market segment, reaching an estimated 3.3 million unitsannually by then.

Color PDPs are poised to play a key role in the emerging multimediaage and Fujitsu -- which introduced the industry's first commercial 21-inch color PDP in October 1992 and has been a leader in introducing HDTV and related products -- is well positioned to continue its leadership in this area in the years to come.

[Product Highlights]

1) World's First 42-inch-diagonal Wide-Screen Display
Reaching beyond the limitations of conventional CRTs, Fujitsu's pioneering 42-inch color PDP screen measures 920mm-wide by 518mm-high.

2) Wide-Screen Display
Boasts powerful wide screen with 16:9 width/height ratio.

3) Non-Interlace Scanning Mode of 480-Line
Non-interlaced 852 horizontal dots x 480 vertical dots display is exceptionally clear with no flickering.

4) High-Luminance Full-Color Display
Fujitsu original technology achieve 300cd/m 2 white peak brightness and precision full-color display of 16.7 million colors, with quality on par with CRTs and superior to rear projection displays.

5) 160 Degree Wide Viewing Angle
Original panel structure and process technology make possible wide-angle viewing up to 160 degrees, an important feature that has been difficult to achieve with CRT or liquid crystal systems.

6) Thin (75mm), Lightweight (18kg) Construction
The world's first thin, lightweight large-screen device, Fujitsu's new color PDP will make possible development of a new generation of wall-hanging TVs.

For More Information Contact:
Michael Beirne or Isao Hirano
Fujitsu Limited, Public Relations
Phone: +81(0)3 -3215-5236 or 3213-4160 Fax: 3216-9365
Internet e-mail: mike@hq.fujitsu.co.jp hirano@hq.fujitsu.co.jp