Fujitsu Introduces World's First 2.5" Serial ATA Hard Disk Drives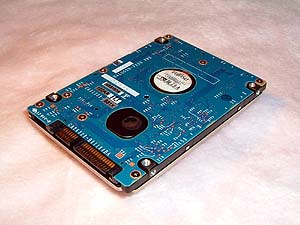 Tokyo, January 5, 2004 -- Fujitsu Limited today announced the availability of the MHT20xxBH hard disk drive (HDD) series, the world's first 2.5" HDDs with a Serial ATA interface. The new HDDs deliver superior performance, making them ideal for notebook computers and other mobile computing products. The MHT20xxBH series, which offers spindle speeds of 5,400 RPM and storage capacities of up to 80 gigabytes (GB), will be available to product manufacturers worldwide.
Compared to the parallel ATA interface typically used on 2.5" HDDs today, the Serial ATA interface permits faster data-transfer rates. To complement the increasingly powerful data-processing capabilities in mobile computing products, there has been a strong market need for 2.5" Serial ATA HDDs.
Fujitsu is the first in the industry to meet this need with the new MHT20xxBH series, which is equipped with a system on a chip (SoC) that supports the Serial ATA II Phase I specification (*1), achieving a host transfer rate of 150 megabytes per second, 50% faster than the earlier MHT20xxAH series. In addition, Native Command Queuing speeds up the drive's internal processing by allowing up to 32 instructions to be queued and their order of execution rearranged for optimal throughput.
With a world-class data density of 10.7 gigabits per square centimeter (or 69 gigabits per square inch), the drive is available in 40, 60, and 80GB capacities to suit a range of customer needs.
Fujitsu will begin sample shipments of the MHT20xxBH at the end of April. The company has targeted worldwide sales of two million units in fiscal 2004 (year ending March 31, 2005).
For more information on Fujitsu's HDDs and other storage systems, please see: http://www.fujitsu.com/services/computing/storage/hdd/
About Fujitsu
Fujitsu is a leading provider of customer-focused IT and communications solutions for the global marketplace. Pace-setting technologies, highly reliable computing and telecommunications platforms, and a worldwide corps of systems and services experts uniquely position Fujitsu to deliver comprehensive solutions that open up infinite possibilities for its customers' success. Headquartered in Tokyo, Fujitsu Limited (TSE:6702) reported consolidated revenues of 4.6 trillion yen (US$38 billion) for the fiscal year ended March 31, 2003. For more information, please see : http://www.fujitsu.com/
*1. Serial ATA II Phase I: An expanded specification called SATA Extensions, which includes native command queuing and other features that speed up internal processing.
Related materials
All company/product names mentioned may be trademarks or registered trademarks of their respective holders and are used for identification purpose only.
Please understand that product prices, specifications and other details are current on the day of issue of the press release, however, may change thereafter without notice.