2004-0014E
Fujitsu Laboratories Ltd.
Fujitsu Develops High Capacity Micro Fuel Cell Technology
Realizes use of concentrated fuel for extended runtimes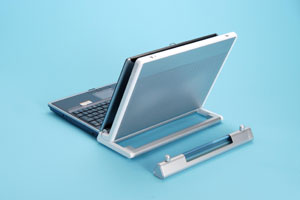 Tokyo, January 26, 2004 - Fujitsu Laboratories Ltd. today announced the development of a new fuel-cell material technology that enables the use of 30% methanol - highly concentrated methanol - as a fuel source, as well as a prototype power unit that incorporates the technology. This technology enables much higher power capacities for passive micro fuel cells (*1) and realizes longer runtimes for mobile devices such as notebook PCs, PDAs and mobile phones.

Background
As notebook PCs, PDAs and mobile phones evolve to deliver higher performance and greater functionality, they have also come to demand more electrical power. But the lithium-ion (Li-ion) batteries commonly used today have already approached the limits of their capacity, which has made the development of a higher-capacity power source a matter of greater urgency.
Micro fuel cells, envisioned for use in mobile devices, generally use alcohol solutions as fuel. In terms of energy density, these fuel cells offer up to 5-10 times the power per unit weight of a Li-ion battery. From the user's perspective, micro fuel cells have advantages in that they offer cheap and easy means to power electronic devices by simple refueling, enabling continuous use when traveling with no access to the power grid.
Technological Challenges
Passive systems are best suited for micro fuel cells to help keep the package compact and light, as they do not require fuel pumps or circulatory fans. Thus, in order to obtain long runtimes without such functions, the fuel cells must be able to handle concentrated methanol as its fuel.
To date, micro fuel cells mainly have employed fluorinated polymers for their solid electrolytic material. But fluorinated electrolytes are too readily permeated by the methanol molecules in the fuel, so that when concentrated fuels are used, fuel is lost in the generating process and power capacity suffers, and the sub-reaction of methanol and air drastically reduces wattage, creating a problem known as methanol crossover.
Fujitsu's New Technology
Fujitsu developed a new material technology for the membrane electrode assembly (MEA) (*2). An aromatic hydrocarbon solid electrolyte material, which allows slow methanol permeation, is covered with a high density of highly active platinum-based nano-particle catalyst with methanol blocking properties. This reduces the total MEA methanol crossover effect to one-tenth that encountered with typical fluorinated polymers.
Benefits
This new material technology for MEA enables the direct use of methanol concentration of 30%, previously too high to use, resulting in greater capacity from passive fuel cells. Applying this technology in a prototype micro fuel-cell system with 300ml of 30% methanol enables a notebook PC to run for eight to ten hours. Furthermore, the prototype fuel cell has been slimmed down to a thickness of a mere 15mm, while delivering power output levels of 15 watts.
Future Development
Fujitsu plans to continue developing high-performance materials and refining its manufacturing techniques to develop micro fuel cells that are even more compact and deliver even longer operational run times.
Notes
*1. Passive fuel-cell system

A fuel-cell system that uses no fuel-supply pumps or circulatory fans, relying entirely on gravity and natural convection to circulate fuel and air, this is ideal for small, lightweight systems

*2. Membrane electrode assembly

A composite power-generation unit consisting of an electrode catalyst layer and a film (membrane) of a solid electrolytic material, which is the basic unit of a fuel-cell system
About Fujitsu Laboratories Ltd.
Founded in 1968 as wholly owned subsidiary of Fujitsu Limited, Fujitsu Laboratories Limited is one of the premier research centers in the world. With a global network of laboratories in Japan, China, the United States and Europe, the organization conducts a wide range of basic and applied research in the areas of Multimedia, Personal Systems, Networks, Peripherals, Advanced Materials and Electronic Devices.
Trademark notice
All other company/product names mentioned herein are trademarks or registered trademarks of their respective companies.


Links
All company/product names mentioned may be trademarks or registered trademarks of their respective holders and are used for identification purpose only.
Please understand that product prices, specifications and other details are current on the day of issue of the press release, however, may change thereafter without notice.