[ PRESS RELEASE ]

2003-0047
Fujitsu Limited
Fujitsu Introduces New 2.5" Mobile Hard Disk Drives With Up To 80GB in Storage
- New line offers range of storage capacities for a variety of applications -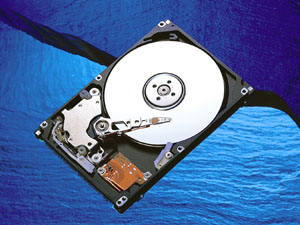 Tokyo, March 10, 2003 -- Fujitsu Limited today announced the global introduction of its new MHT series of 2.5" mobile hard disk drives, with capacities ranging up to 80GB. The sales launch of this series starts today.
Fujitsu's new MHT series boasts the industry's highest level of areal density at 10.7Gbit/cm² (69.3Gbit/in²) and a maximum storage capacity of 80GB (40GB per platter). The series is available in a wide range of capacities -- 20, 30, 40, 60, and 80GB -- to suit a variety of needs, ranging from mobile computing devices and in-car systems to digital home electronics applications.

The MHT series employs new GDT (Glass Direct Texture) Media* enabling nearly a 30% increase in areal density of up to 10.7Gbit/cm² (69.3Gbit/in²) and up to 40GB per platter while improving media resolution and noise reduction resulting in improved data integrity.
*GDT Media:

A new type of media incorporating a new glass disk texturing process which dramatically increases the electro- magnetic conversion properties in achieving greater areal density.
Sales Target
10 million units
Specification
Capacity:20 / 30 / 40 / 60 / 80GB

Number of platters:1 / 2

Number of heads:2 / 3 / 4

Spindle speed:4200 rpm

Media transfer rate (max):41.1MB/s

Data transfer rate:100MB/s

Maximum areal density:10.7Gbit/cm² (69.3Gbit/in²)

Operating shock:225G (2ms)

Non-operating shock:900G (1ms)

Buffer size:2MB

Acoustic noise (idle):2.3 Bels

Voltage requirements:+5V ±5%

Power consumption

- read/write (typ):2.0W (read) / 2.1W (write)
- standby (typ):0.25W
- idle (typ): 0.65W

Average seek time:12ms

Weight:99g or lower
About Fujitsu
Fujitsu is a leading provider of customer-focused IT and communications solutions for the global marketplace. Pace-setting technologies, high-reliability/performance computing and telecommunications platforms, and a worldwide corps of systems and services experts make Fujitsu uniquely positioned to unleash the infinite possibilities of the broadband Internet to help its customers succeed. Headquartered in Tokyo, Fujitsu Limited (TSE:6702) reported consolidated revenues of 5 trillion yen (about US$38 billion) for the fiscal year ended March 31, 2002. For more information, please see: http://www.fujitsu.com/
[Press Contacts]
Ayami Shigematsu, Scott Ikeda
Fujitsu Limited, Public & Investor Relations
Tel: +81-3-3215-5259 (Tokyo)
Fax: +81-3-3216-9365
Press Inquiries

[Customer Contact]
Fujitsu Limited, Storage Products Group
Tel: +81-44-754-2130
e-mail:ynanno@jp.fujitsu.com
For more information, see: http://hdd.fujitsu.com

All company/product names mentioned may be trademarks or registered trademarks of their respective holders and are used for identification purpose only.
Please understand that product prices, specifications and other details are current on the day of issue of the press release, however, may change thereafter without notice.