| | |
| --- | --- |
| [ PRESS RELEASE ] | Fujitsu Limited |
Fujitsu Launches MB89210 Series of General-Purpose
Microcontrollers
Includes LIN-Compatible UART Interface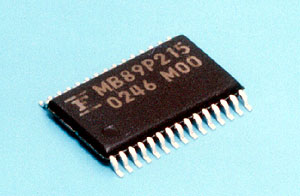 Tokyo, February 26, 2003 -- Fujitsu Limited today announced that, jointly with Fujitsu Devices Inc., it has developed two new products for automotive control systems in the MB89210 series of F2MC 8-bit microcontrollers. Fujitsu will begin taking orders for the new microcontrollers as of today.
In recent years, two types of in-vehicle network technologies, Controller Area Network (CAN) and Local Interconnect Network (LIN), have emerged as de-facto standards. Since 1998 Fujitsu has been embedding CAN and LIN capabilities in its microcontrollers to enhance automotive safety and comfort.

The new products include UART (Universal Asynchronous Receiver/Transmitter) capabilities supporting LIN, the digital communications standard. As a result, digital equipment that is compatible with a conventional UART, such as audio speakers and minidisc players, as well as temperature sensors and other analog equipment, can be connected in a LIN environment, enabling customers to construct a cheap and reliable onboard local area network.
The new series is designed for use in applications that can be regulated by an 8-bit microcontroller devices.
Features of Fujitsu's New MB89210 Series
Networking
As a standard feature, the microcontrollers are equipped with a UART macro that complies with the LIN version 1.3 specification, enabling both digital equipment that is compatible with a conventional UART, such as speakers and minidisc players, as well as analog equipment, such as climate sensors and air-conditioning temperature and airflow controls, to be made compatible with LIN.
CPU clock switches automatically
The microcontrollers can work with both internal and external clocks based on either crystal or ceramic oscillators, so that if the chip becomes disconnected from its external oscillator source or other problems occur, the chip can automatically switch over to its internal source, enabling the CPU to continue functioning properly.
Compatible with a wide range of operating voltages: 3.5 to 5.5V
The new microcontrollers have a wide voltage tolerance of 3.5 to 5.5V, offering superior reliability even when the power supply fluctuates.
Sample Pricing:

MB89215: 300 yen
MB89P215: 600 yen

Sample Shipments: Early March 2003 (both products)

Sales Target: 500,000 units per month (for both combined)
Main Specifications of the MB89210 Series
Process technology: 0.5 µm CMOS

Power source: 3.5 to 5.5 V

Minimum instruction execution time: 0.32 µs @ 12.5 MHz (PLL clock multiplier x 4)

Memory:

RAM: 512 bytes
ROM: 16 KBytes (MB89215)
OTPROM: 16 KBytes (MB89P215)

Ports:

General-purpose output: 21
General-purpose input: 1
Glossary
*1. Sleep mode

Power-saving mode where the CPU's clock is stopped, but functions outside the CPU continue to run. Allows peripherals to continue operating.

*2. Stop mode

Minimum power-consumption mode where all functions relying on the central clock are stopped; only enough power is used to store contents of RAM.
Trademark notice
F2MC is a registered copyright of Fujitsu Limited.
All other product names and company names mentioned herein are the trademarks or registered trademarks of their respective firms.
About Fujitsu
Fujitsu is a leading provider of customer-focused IT and communications solutions for the global marketplace. Pace-setting technologies, high-reliability/performance computing and telecommunications platforms, and a worldwide corps of systems and services experts make Fujitsu uniquely positioned to unleash the infinite possibilities of the broadband Internet to help its customers succeed. Headquartered in Tokyo, Fujitsu Limited (TSE:6702) reported consolidated revenues of 5 trillion yen (about US$38 billion) for the fiscal year ended March 31, 2002. For more information, please see: http://www.fujitsu.com/
[Press Contacts]
Nozomi Endo, Nancy Ikehara
Fujitsu Limited, Public & Investor Relations
Tel: +81-3-3215-5259 (Tokyo)
Fax: +81-3-3216-9365
Press Inquiries

[Technical Contact]
Electronic Devices Group
System Micro Division
Tel: +81-42-532-1397
E-mail: edevice@fujitsu.com

All company/product names mentioned may be trademarks or registered trademarks of their respective holders and are used for identification purpose only.
Please understand that product prices, specifications and other details are current on the day of issue of the press release, however, may change thereafter without notice.