2002-0126E
Fujitsu Limited
Fujitsu Introduces CMOS Image Sensor Module
-- Features low power requirements, slim form-factor with built-in lens and image quality on par with CCDs --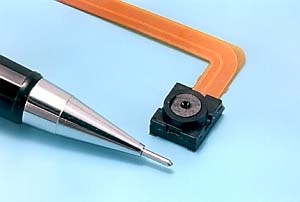 Tokyo, May 29, 2002--Fujitsu Limited today announced that it has developed and is making commercially available today a CMOS color image sensor module, the MB86S02A micro-camera module, for mobile phone and PDA applications. The 110,000-pixel unit offers high sensitivity and low noise, Common Intermediate Format (CIF) compatibility, and a built-in lens in the world's smallest, lightest, and lowest-power module of its type.

Mobile phones are now being offered with video communications functionality, creating a need for mobile cameras to capture video data. Demand for CMOS image sensors is expected to rise because these devices are smaller and less power-hungry than charge-coupled device (CCD) cameras. Fujitsu has responded to the growing need for this type of product by developing a micro-camera module with the world's smallest feedback noise-reduction sensor (FNRS).

Features

CMOS image sensor with Fujitsu's proprietary built-in kTC noise-elimination circuit
Fujitsu developed a new CMOS image sensor with a built-in kTC noise-elimination circuit to address the dominant kTC noise, a shortcoming of earlier CMOS sensors. The feedback noise-reduction circuit drastically suppresses such noise, putting the new sensor on par with CCD image sensors in terms of noise and image quality. Improving light sensitivity and reducing noise have boosted image-quality significantly, making it possible to shoot with available light levels as low as 2 lux.


Unique packaging technology for the world's smallest, lightest unit
The new unit combines what are ordinarily two different chips-an image sensor and image processor-into one. It also uses proprietary Fujitsu packaging technology (bump-chip carrier packaging) to combine this chip with a lens into a single module, the smallest and lightest such module available.


| | |
| --- | --- |
| Package size: | 7.80 x 6.98 x 3.95 mm |
| Volume: | 0.21 cc |
| Mass: | 0.32 g |



World's lowest power requirements
Use of a low-power AD converter results in the CIF-compatible CMOS sensor with the lowest power requirements in the world: 15 mW for 15 frames/sec.

| | |
| --- | --- |
| Sample ship date: | Mid-June, 2002 |
| Sales target: | 500,000/month |
Major specifications:

Optical system size:
1/7 inch format
Total pixels:
373(H) x 301(V)
Effective pixels:
357(H) x 293(V)
Minimum available light:
2 lux
Imaging area size:
5.5 micron square
Color filter:
RGB
Voltage:
2.8 V ±0.2 V
Power requirements:
30 mW (for 15 fps)
Clock frequency:
9 MHz
Serial interface:
I2C (Inter-IC)
Output format:
YUV=4:2:2 (digital)
Other functions:
Auto gain control, auto white-balance, auto flicker cancellation, variable scan direction, gamma correction
Physical specifications:
Size: 7.8 (W) x 6.98 (D) x 3.95 (H) mm
Aperture: f2.6
Field of view: 60°
Lens construction: plastic, one element
| | |
| --- | --- |
| | |
---
[Press Contacts]
Nozomi Endo, Nancy Ikehara
Fujitsu Limited, Public & Investor Relations
Tel: +81-3-3215-5259 (Tokyo)
Fax: +81-3-3216-9365
Press Inquiries

[Customer Contact]
Fujitsu Limited, Electronic Devices Group
Marketing Department
Tel: +81-3-5322-3347 (Tokyo)
E-mail: edevice@fujitsu.com

[Technical contact:]
Fujitsu Limited, Electronic Devices Group
System Micro Division
Tel: +81-42-532-2131 (Tokyo)
E-mail: edevice@fujitsu.com

All company/product names mentioned may be trademarks or registered trademarks of their respective holders and are used for identification purpose only.

Please understand that product prices, specifications and other details are current on the day of issue of the press release, however, may change thereafter without notice.