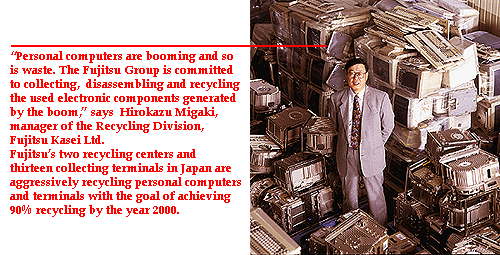 For Fujitsu, preservation of the global environment is a top management priority. The whole Fujitsu Group, both in Japan and abroad, is committed to promoting the kind of corporate activities that maintain a balance between business needs and environmental needs. We have made great progress: new types of cleaning systems and alternatives to ozone-depleting substances were developed, making it possible to abandon CFCs in 1992 and trichloroethane in 1994.

Fujitsu has set specific, quantitative goals for our energy-saving program in an effort to reduce global warming. Recycling figures large in our efforts to use available resources more effectively. All of these activities are growing steadily; for example, the proportion of connector cables and parts for magnetic disk drives being recycled is increasing yearly.

Beyond these efforts, Fujitsu is constantly developing new and environmentally-friendly products: a notebook workstation for which 65% of the components can be recycled; energy-saving desktop personal computers that satisfy the standards set by the Environmental Protection Agency in the U.S.; and easy-to-recycle keyboards on which keytop characters are laser-etched without ink.

The first Fujitsu Group Worldwide Environmental Conference was held in November 1995. The conference drew participants from 16 of our major overseas locations in the U.S., Europe and Asia. Fujitsu already has in place an international information network on environmental issues that connects 17 countries and 47 sites worldwide. This network gives instant access to the latest environmental information.

---
Previous | Table of Contents | Next
Copyright (c) 1996 Fujitsu Limited. All Rights Reserved.