Fujitsu continues to invest in research and development to create new technologies, new products and new market opportunities. In fiscal 1995, the company invested 346 billion yen in these activities, a figure that represents a 7% increase over the previous fiscal year and is equal to 9.2% of the company's sales.

In the development of technologies for networked infrastructures, Fujitsu has successfully tested the world's largest optical link, which uses wavelength division multiplexing. The system can transmit 1.1 Terabits of information in only a second. This new technology is attracting great interest and is expected to form the foundation upon which future ultra-large-capacity communications systems are built.

In multimedia services, Fujitsu has just completed development of an interactive visual information system for use with video-on-demand. The system delivers high quality movies, keeping response time to less than half a second.

In personal systems technology, Fujitsu developed a platform that provides a new way of accessing and using the Internet, including information services and communication services. "AGORA," the new platform, allows users to enjoy shopping and online chats in a three-dimensional CyberCity. Magneto-optical disks leapt forward with our development of the world's first "Super MO," whose technology enables a single-sided 3.5-inch disk with a storage capacity of 2 Gigabytes.

In electronic materials, Fujitsu has developed a positive resist for ArF excimer laser lithography, which will lead to the development of Gigabit-class DRAMs and other VLSI chips. This positive resist contains an alicyclic resin with a new molecular structure that obtains the highest sensitivity and resolution in the world.

Establishment of the Fujitsu European Centre for Information Technology Ltd. in the U.K. moves Fujitsu into the development of parallel processing technologies for high performance computing and establishes a base for user support in Europe. The technologies that emerge from the center will form the core of next-generation network computing.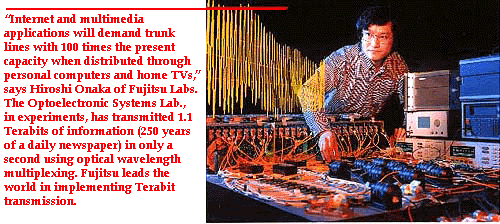 ---
Previous | Table of Contents | Next
Copyright (c) 1996 Fujitsu Limited. All Rights Reserved.