Information Processing
Client-Server Systems

The current Internet boom and growing use of intranets are giving fast access to all types of information both inside and outside a company. To keep pace, more and more companies are turning to client-server systems. We have responded with an enviable lineup of server systems. At the high end of the market, where the server plays the critical role in the large-scale information system, Fujitsu offers systems using leading-edge parallel processing technology. Employing the latest CMOS technology, our GS8000 Series enterprise servers offer up to three times the cost-performance of previous large-scale systems, and are already in operation across a wide range of manufacturing, distribution, financial, governmental and other applications.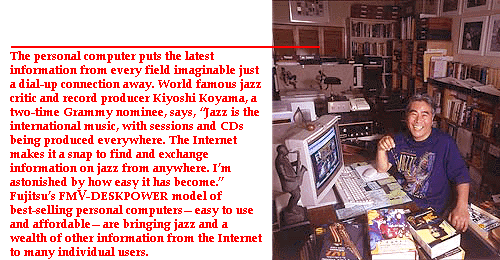 In the mid-range, Fujitsu offers the DS/90 7000 Series of servers for business use, whose greatest appeal is the ability to support enterprise- and division-wide applications. Fujitsu also offers the S-Family of high-performance workstations for scientific, technical and design applications. Both models have been well received by the market. To meet the rapidly growing requirement for servers in smaller-scale applications, Fujitsu offers a full range of PC-based servers running under WindowsNT.

Personal Computers

Fueled by the release of Windows95 and the boom in Internet usage, Japan's personal computer market saw explosive growth in fiscal 1995. More than 5.7 million personal computers were shipped, over 70% more than the previous year. This brought marked growth in sales of Fujitsu's FMV Series of personal computers both for business and personal use. As many as 1.45 million units were shipped in fiscal 1995, over three times the shipments of the previous year. Particularly successful were sales of personal computers to businesses for use as terminals in client-server systems. And for home use, the FMV-DESKPOWER lineup set new standards at PC shops throughout Japan.
Overseas sales of personal computers helped bring the worldwide total to more than 2 million units shipped. To further strengthen overseas sales, Fujitsu established subsidiaries in both the U.S. and the U.K. With these companies in place, Fujitsu is well positioned to address all of the world's major PC markets in North America, Europe and Asia.

High-Performance Computers

In March 1996, Fujitsu released its VPP700 high-performance vector parallel computer, which has the world's highest processing speed of 1.126 TeraFLOPS. Following an order placed by the European Centre for Medium-Range Weather Forecasts (ECMWF), one of the largest and most advanced in the world, inquiries about the VPP700 are coming in from various countries in the fields of weather forecasting and science and technology.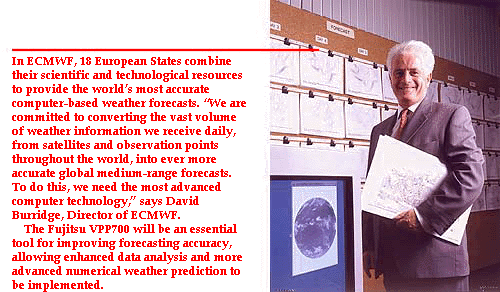 Services and Software

Fujitsu's services and software business is growing yearly, and now accounts for roughly 40% of the company's information processing business.
With the spread of networking and client server systems, customers have growing needs for total systems support. Fujitsu has responded in this core service business by expanding its capabilities to supply total hardware, software and networking support.
Fujitsu has a strong presence on the Internet, having significantly strengthened its InfoWeb total network support services. Users can now establish their own home pages, search the World Wide Web using a powerful new keyword search engine, and do their shopping online.
In software, Fujitsu has strengthened and enhanced its middleware products that support multivendor systems. Fujitsu is also strengthening global development and sales, particularly in the U.S., Europe and Asia for TeamWARE productivity tools, which are already serving users in 36 countries.


Multimedia

Fujitsu has been aggressive in developing its network-based multimedia business. Fujitsu's WorldsAway multimedia communications service offers online virtual reality to subscribers in 150 countries. In Japan, we have started joint services with newspaper companies and television stations to offer on-demand graphics-based business information to companies over networks. Our new Internet-based online magazine, "teleparc," which includes text, graphics and sound, has been well received by its intended audience.


Other Milestones

Demand for disk drives with ever higher capacity and in small form factors has been growing steadily along with demand for personal computers. In response, the company has increased production of 3.5-inch hard disk drives in Thailand and also constructed a new plant in the Philippines, which started production in April 1996. Another new plant is now under construction in Vietnam.
---
Previous | Table of Contents | Next
Copyright (c) 1996 Fujitsu Limited. All Rights Reserved.