---
Research and Development
---
Fujitsu's research and development focused on multimedia-related technologies, including the systems, software, services and electronic devices that support the forthcoming advanced network society.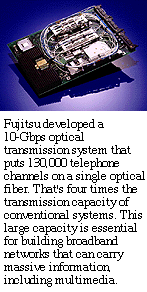 In systems technology, Fujitsu successfully prototyped a 10-Gbps optical transmission system. This system serves as the life line of broadband ISDN and enables the transmission of multimedia information. In software, Fujitsu developed a technique that analyzes existing COBOL programs and automatically creates the application specifications needed for system reconstruction. Fujitsu built a prototype of CyberCity, a virtual city on a computer network. The company also promoted the development of network and interface technologies so that users can enjoy a range of multimedia services offered via the virtual city.

In eletronic devices, Fujitsu established surface polishing technologies and insulating film materials suitable for increasing the number of metal layers in 0.25 micron LSIs. Beyond that, Fujitsu invented a new CMOS structure that maintains good transistor performance at a gate length of 0.075 micron for memories and processors of the next century. Our study of compound semiconductors resulted in the successful development of a GaAs hetero-bipolar transistor, which exhibits high efficiency and produces high power on a low 3.5-volt supply. This new transistor is slated to be used in the next generation of digital cellular phones.

Fujitsu established the Parallel Computing Research Facility in fiscal 1991 to promote parallel processing research and bring together related know-how. The facility has developed into an international research community with more than 240 registered users throughout the world, and a range of parallel processing software has been developed. For further exploration, the company installed an AP1000 highly parallel computer at Imperial College in the U.K. Joint research is now under way with this well-established institute in the field of parallel processing technology.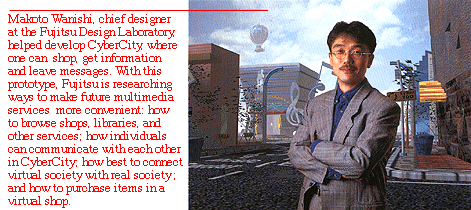 ---
Previous | Table of Contents | Next
Copyright (c) 1995 Fujitsu Limited. All Rights Reserved.