---
Operational Review - Part 3
---
Electronic Devices
The demand for semiconductors in fiscal 1994, particularly memory ICs, continued at a high level. Fujitsu aggressively developed and marketed products that featured high added value for multimedia systems.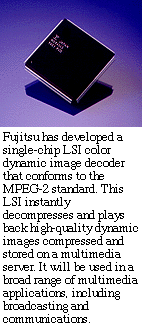 Increased Demand for Memory ICs
Sales of 4-Mbit DRAMs grew significantly, supported by consistent growth in the U.S. personal computer market and a rapidly expanding demand for personal computers and workstations in Japan. Fujitsu strengthened its production of 16-Mbit DRAMs, the next generation of memory chips. A manufacturing facility was completed as part of a joint venture with Advanced Micro Devices, Inc. (AMD) of the U.S. By synergizing their technologies, Fujitsu and AMD quickly established a mass-production system for 16-Mbit flash memories.
Value-added Logic Devices
In logic LSIs, Fujitsu strengthened its ATM chip set by adding an ATM communication transceiver LSI, which targets multimedia applications.
The company released a color dynamic image decoder LSI, which complies with the MPEG-2 international standard for transmitting and receiving dynamic images. The new decoder makes it possible to play back high-quality dynamic images from compressed digital image data on the fly. Compound semiconductors and SAW filters (which hold the largest market share worldwide) grew greatly thanks to the expanded demand for cellular phones.
Electronic Components
Fujitsu found new markets for its 21-inch color plasma display panel (PDP) in fiscal 1994 and has delivered more than 1,000 units to the New York Stock Exchange (NYSE). Mass-production of TFT-LCDs started as demand for laptop computers and multimedia equipment continued to grow.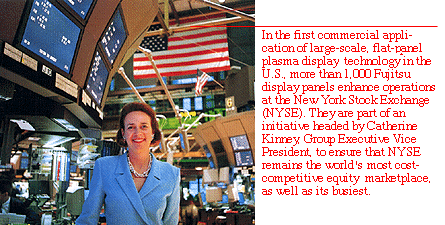 ---
Previous | Table of Contents | Next
Copyright (c) 1995 Fujitsu Limited. All Rights Reserved.