---
Operational Review - Part 2
---
Telecommunications
In fiscal 1994, Fujitsu continued to focus on important areas in telecommunications: expanded sales of multimedia products and mobile communications systems, and the organization of a modern telecommunications infrastructure in Asia.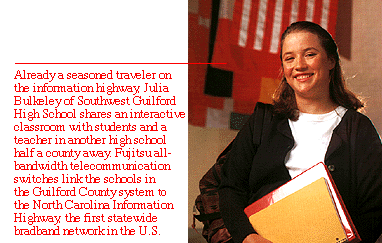 Towards the Multimedia Network
The North Carolina Information Hightway (NCIH) became operational in fiscal 1994. Fujitsu developed the 24 ATM switching systems that comprise the system's core and delivered them to three U.S. telephone companies. NCIH is the world's first largescale, wide-area broadband multimedia network. It started operation in August 1994 and is delivering distance learning. Services provided by the network will expand, centering on such social and public services as remote medical diagnoses, virtual courtrooms and advanced information retrieval.

SONET optical transmission systems for the North American market held onto the number one slot with steady demand from American communications carriers, including BOCs. On the other side of the world, Singapore Telecom placed an order with Fujitsu for the world's first full-scale video-on-demand (VOD) system. In concert, Fujitsu started delivering ATM switching systems and the optical transmission systems that form the core of the VOD system.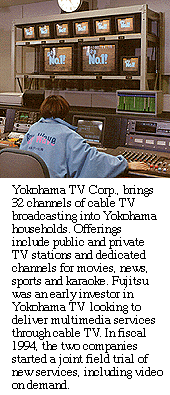 In Japan, Fujitsu is moving aggressively into the cable TV business, working to develop products and accumulate the know-how needed to implement multimedia services through cable TV. In fiscal 1994, Fujitsu initiated field trials of VOD, local information services and other new services in cooperation with cable TV companies.
Developing infrastructures in Asia
Orders for FETEX-150 digital switching systems from the People's Republic of China reached a cumulative total of ten million lines by the end of fiscal 1994. In optical transmission systems, Fujitsu and Malaysia Telecom signed a long-term supply contract for the first SDH 2.5-Gbps optical transmission system in Asia. In the Philippines, Fujitsu received an order from Globe Telecom for FETEX-150 switching systems and SDH optical transmission systems totaling 500,000 lines.
Globe Telecom is a new common carrier (NCC) working to build a public telephone network that delivers sophisticated ISDN services to Philippine subscribers.
Increased Diversity in Japan
Fujitsu's broad lineup of information exchange systems, including the E-7000 Series of ATM Multimedia Systems released in fiscal 1994, enjoyed steady demand. In the business with NTT, the delivery of optical transmission systems grew, particularly those for high-speed leased lines. Sales grew significantly in mobile communication systems, especially of new digital cellular phones. Fujitsu also started delivering base stations for the personal handy-phone system (PHS) to NTT.
PHS is expected to grow rapidly, as its phones are less expensive and easier to use than cellular phones.

---
Previous | Table of Contents | Next
Copyright (c) 1995 Fujitsu Limited. All Rights Reserved.