---
Operational Review - Part 1
---
Information Processing
In fiscal 1994, Fujitsu continued to focus on the growth areas of open systems, services and software. We strengthened the solutions business with the goal of providing total solutions to customers' problems. The company also worked to locate new multimedia markets.

Client-Server Systems
Client-server environments are becoming the mainstream configurations of the computer world. To meet growing demands and improve functionality in this crucial area, the company is targeting the construction of client-server systems that can flexibly respond to the scale and applications of any company, large or small. Fujitsu added new models to its lineup of DS/90 7000 Series business servers and S-Family workstations. The new models feature a 32-bit hyper SPARC RISC processor that is one of the world's highest performers. Sales of the DS/90 7000 Series grew sharply, leaping 70% past the number of units delivered the previous fiscal year.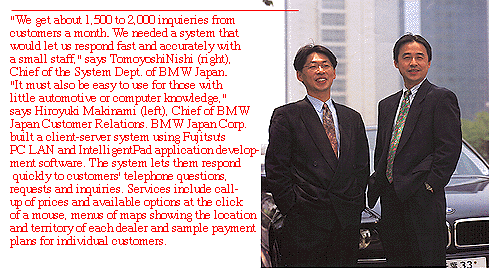 In February 1995, the VX Series of R&D servers was released, bringing the processing performance of a supercomputer to each lab. Fujitsu also developed Global Server, which is part of the move from mainframe to client-server systems while maintaining current software assets. It features leading-edge CMOS and parallel processing technologies to achieve superior cost performance.
The teamserver and superserver worldwide series, jointly developed by Fujitsu and ICL PLC, were introduced into the European and Asian markets in fiscal 1994. These new servers, with a wide choice of processor technology, operating system, database products, applications and tools, enjoyed a smooth start.
Personal Computers
Sales of the FMV Series of personal computers grew significantly, both for corporate and personal use. Corporate orders for the FMV Series were exceptionally brisk, as these powerful IBM-compatible machines offered an ideal choice for client-server systems. In the personal-use area, FMV-DESKPOWER achieved hit-product status. Major reasons for its success were a reasonable price and plug-and-play simplicity made possible by pre-installed software. In fiscal 1994, Fujitsu delivered twice as many personal computers as in the previous fiscal year, reaching 450,000 in Japan. Worldwide, the total was one million units. We will continue strengthening our product lineup with the goal of topping two million deliveries in fiscal 1995.
Software and Services Business
Middleware products, which support the construction of open systems in a multivendor environment and across different platforms, enjoyed steady sales. TeamOFFICE, which is designed to dramatically improve office productivity, did especially well. This groupware product already has more than 20,000 users only a year after its release. Fujitsu is also committed to promoting sales of application packages, which were developed on the basis of our many years of experience in building systems.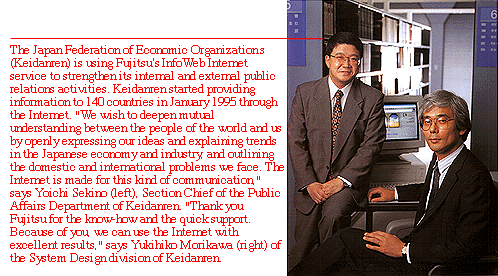 Fujitsu is also conducting new service businesses in response to market demand. In fiscal 1994, we initiated total support for Internet users and enhanced PROPOSE, which targets the improvement of total services. We also started a client-server desktop service. Specialists assigned to the desktop service provide telephone support to Fujitsu customers. Corporate Software, Inc. of the U.S. and Fujitsu jointly established a new company to provide high-quality services, including Q&A support for PC software users. The new company will also support non-Fujitsu products and will market the major personal computer software packages of the world.
Multimedia Products
To popularize multimedia services, it is important to develop worthwhile contents. Fujitsu PAREX Ltd. was established to plan, produce and sell a range of multimedia software titles, including those for education and entertainment.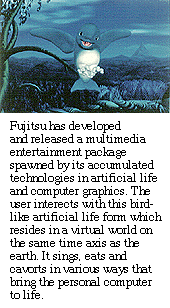 Sharp Corp. and Fujitsu established an affiliation to build a tight cooperative relationship across a wide range of fields, including information, communications and images. The objective is to introduce easy-to-use, attractive products into the multimedia market at the right time. Beyond that, in cooperation with CompuServe Inc., the world's largest personal computer communications company, Fujitsu will provide WorldsAway in 150 countries. This multimedia communications service, using virtual reality technology, makes possible a new type of animated communication on a global scale.
Other Milestones
In terminals, Fujitsu started delivering the world's fastest banking terminal. The company also launched worldwide marketing of TeamPoS, developed jointly with ICL PLC. This new POS terminal has generated many inquiries, as it features an industry standard control unit and the world's first workstation capabilities. Computer-related products, such as printers, magnetic disks and scanners, also enjoyed steady sales.
To offset the appreciating yen, Fujitsu established international procurement offices in such places as Singapore, Taiwan and the U.S. state of California. The goal is to increase the percentage of production materials procured outside Japan. The percentage for information processing, telecommunications and electronic devices was 15% in fiscal 1994 and will grow to 21% in fiscal 1995.

Fujitsu is expanding overseas production, shifting the production of hard disks from Japan to Thailand. The company has also broken ground for a new hard-disk plant in the Philippines.

---
Previous | Table of Contents | Next
Copyright (c) 1995 Fujitsu Limited. All Rights Reserved.