---
Message from the Chairman and the President
---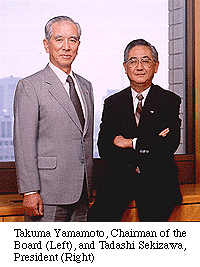 Fiscal 1994 in Review
In fiscal 1994, ended March 31, 1995, the U.S. and Asian economies continued to grow, while the European economy took a pronounced upward turn. Japan, however, continued to be hindered by a severe economic climate. The economy did not begin to approach full-scale recovery, and modest gains were offset by a skyrocketing yen.
In Japan's information and communications market, investment in computerization began to recover slowly.
Demand for personal computers and workstations was particularly strong as the trends toward open systems and rightsizing continued. Semiconductors continued to be in high demand worldwide, with memory products taking the lead.
To succeed in this environment, Fujitsu promoted its total solutions business by focusing on open systems, software and services. We also worked to locate new multimedia markets. In semiconductors, Fujitsu concentrated on strengthening production and developing new products. The streamlining of overall management continued: facilities investment and research and development focused on promising fields, and production systems were restructured.
Fiscal 1994 yielded better results than the previous fiscal year, as sales grew to 3,257 billion Yen (up 4% over the previous fiscal year). The result was a group profit of 45 billion Yen for fiscal 1994.
Towards Becoming the World's Leading IT Company
The information and communications markets have entered a significant period of change throughout the world. The computer market is undergoing structural changes, next-generation communications networks are being built, prices are dropping and strategic alliances are bringing the communications and broadcasting markets together.
Fujitsu will concentrate its triple expertise in computers, communications and microelectronics on solving customers' problems, and will achieve success by bringing everything together with advanced system integration techniques. Fujitsu will also work to locate new markets in the multimedia field.
Enhanced Open Systems Business
Applications for client-server systems are expanding. Fujitsu offers a wide range of products built around business servers and workstations, providing customers with systems tailored to their specific needs. Fujitsu will continue to strengthen its open systems business through the joint development of new products with overseas partners such ICL PLC in the U.K., Amdahl Corporation in the U.S. and other major companies around the world.
Strengthened Personal Computer Sales
Fujitsu expanded sales of personal computers to answer rightsizing demands. Sales of the FMV Series of IBM-compatible personal computers grew significantly, both for corporate and personal use. In fiscal 1994, Fujitsu delivered twice as many personal computers in Japan as in the previous fiscal year, reaching 450,000 units. Worldwide, the total was one million units. We will continue to strengthen our product lineup with the goal of topping two million deliveries in fiscal 1995.
Strengthened Software and Services Business
We believe it vital that we increase the share of software and services in overall sales. We are working to expand software sales in two major areas: middleware products that support open systems, and application packages based on our many years of experience in building systems. In services, Fujitsu will strengthen systems integration and out-sourcing, the central activities of PROPOSE, which targets improved total services. Beyond that, we have initiated new services to meet market needs, including total Internet support and software consulting for personal computer systems in multivendor environments.
The software and services business now holds a 40% share of the group's information processing business. We will continue pressing to increase its share.
Locating New Multimedia Markets
The North Carolina Information Highway started operation last August, and a range of services, including distance learning, is now on line. At the core of the highway are Fujitsu's ATM switching systems. In Japan, Fujitsu started trials on new communication services, including video-on-demand, in a joint effort with cable TV companies.
The contents of multimedia information is becoming increasingly important. In fiscal 1994, Fujitsu established a new company dedicated to planning, producing and selling multimedia titles. We will continue strengthening the multimedia contents business.
Increased Production of Electronic Devices
With the growth in demand for personal computers and workstations, sales of electronic devices grew significantly in fiscal 1994. Memory ICs did especially well. Fujitsu will expand production on an international scale in response to market trends, emphasizing the transition from 4-Mbit to 16-Mbit DRAMs. In logic ICs, Fujitsu will concentrate on products with high added value, such as high-performance microprocessors, an expanded ATM chip set and dynamic image processing LSIs.
To achieve the objectives described above, Fujitsu has established organizations to promote client-server systems, multimedia and its contents business. Fujitsu is aggressively working to change from traditional personnel management to a flexible system that meets ever-changing demands. The new system we are implementing is but one indicator of how the company's top management is working to stay a step ahead of the rest.
Fujitsu will continue these corporate efforts and will become the world's leading IT company, with excellent profitability and an open road to growth. We thank you for your past help and ask for your continued support.


Takuma Yamamoto
Chairman of the Board and Representative Director


Tadashi Sekizawa
President and Representative Director
---
Previous | Table of Contents | Next
Copyright (c) 1995 Fujitsu Limited. All Rights Reserved.